Hi everyone! I was invited to participate in this blog hop by JM Stewart. You can read her post here.
A bit of info about JM Stewart: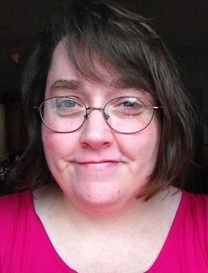 JM is the author of passionate, heartfelt contemporary romance. She's a wife, a mother, a spiritualist, and lover of puppies, and happily addicted to coffee and chocolate. She lives in the rainy Pacific Northwest with her husband, two sons, and two very spoiled dogs. She's a hopeless romantic who believes everybody should have their happily-ever-after and has been devouring romance novels for as long as she can remember. Writing them has become her obsession. For more about JM Stewart and her books, please visit: http://authorjmstewart.com/
Thanks, Joanne, for the invitation!
Now, I'm supposed to choose one character from a work-in-progress or a recently published book and answer seven easy questions. Here goes!
What is the name of your character? Is he/she fictional or a historic person?
I chose Nate Sanders from my upcoming release, WHATEVER IT TAKES, 4th book in the Trust No One series. Nate is completely fictional – no names have been changed to protect the innocent! He made his first appearance in the 3rd book of the series. Now it's time for his story to be told.
When and where is the story set?
The story is set in present-day, but moves around a bit. It starts in Portland, Oregon, in a sleazy bar for a late night stake-out, moves to Nogales, Mexico, and then back to Portland.
What should we know about him/her?
Nate is a detective for the Portland Police Bureau. He lives in a southern style mansion on 40 gorgeous acres outside of town that he inherited from his uncle. He had a disastrous end to a relationship he thought would be forever, so he's content to spend his time working and tinkering on his fully restored 69 Mustang. Or that's what he thinks, anyway!
What is the main conflict? What messes up his/her life?
He's ambushed while on a stake-out by a man who says Nate's uncle stole something from him. This man will stop at nothing to get it back. The heroine, Alex Morgan, jumps in to assist Nate, and then recruits him to help her rescue a 5-year-old kidnap victim. But the man from Nate's past isn't finished with him yet.
What is the personal goal of the character?
Nate's goal is to help Alex cope with a horrific past that is sometimes just as real to her today as it was back then. This not only means helping her return from the dangerous place in her mind where she goes all too frequently, but also convincing her it's time to set aside the guilt she carries.
Is there a working title for this novel and can we read more about it?
The title of this novel is WHATEVER IT TAKES. Here's the cover and a short blurb: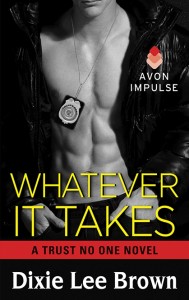 Assassin Alex Morgan will do anything to save an innocent life—especially if it means rescuing a child from a hell like the one she endured.
But going undercover as husband and wife, with none other than the disarmingly sexy Detective Nate Sanders, may be a little more togetherness than she can handle. She's used to working alone, and no man is going to change that—not even a man who makes her heart pound and her defenses crumble with just a touch
Nate has dodged more than a few bullets over the years, but fighting his attraction for Alex may be the bullet that does him in. Still, Nate's determined to help her find the missing kid. There's no doubt in his mind that they're walking straight into danger, but Nate's willing to face anything if it means protecting Alex. She might have been on her own once, but Nate has one more mission: to stay by her side—forever.
When can we expect the book to be published?
WHATEVER IT TAKES will be released tomorrow, August 12th, 2014. Here are buy links:
If you're an author and you'd like to participate in the Meet My Character Blog Hop, there are still openings for next Monday, August 18th. It's fun and easy! You can contact me here.
Thanks for stopping by!