Check out these romantic suspense novels!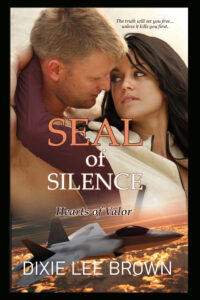 SEAL of Silence (Hearts of Valor #4)
Former Navy SEAL James Cooper's life is about to get complicated.
Coop's new gig in private security with his brothers-in-arms doesn't allow time for distractions. Undercover in a small Oregon town, he infiltrates a dangerous militia intent on its own brand of justice.
Running into an old love he'd thought long dead? That's a distraction he can't ignore.
A classified mission-gone-bad forces former Captain Jade McDowell into hiding until her sister is run off the road by a gang of thugs terrorizing her hometown. The last person Jade expects to bump into in Small Town USA is Coop, the man who still owns her heart…and who must never find out what happened on her final mission.
Their chance encounter puts a target on Jade's back. Coop is sure she knows her enemy, yet she's not talking. He lost her once; he's not about to let it happen again.
But Jade's plan is to take her deadly secrets to the grave.
 SEAL of Silence is a stand-alone romantic suspense in the Hearts of Valor series. Each of the novels in the series is its own story with HEA and no cliffhangers.
Available through these on-line retailers:
Amazon: books2read.com/sealofsilence
Barnes & Noble: books2read.com/u/b6O8VW
iTunes: books2read.com/u/b6O8VW
Kobo: books2read.com/u/b6O8VW

For the Love of a SEAL (Hearts of Valor #3)
On every deployment, Navy SEALS face impossible odds—and succeed. But winning over the perfect woman will be the most challenging mission yet.
This is Blake Sorenson's story.
The security company that former SEAL Blake Sorenson works for helps him stay in fighting form—physically and mentally. He has little time for distractions of the female variety, which is fine with him. His fickle ex-wife taught him that love and loyalty don't mix. Which is why he should eighty-six the rookie reporter he finds in his helicopter. The sexy stowaway in red stilettos is sure to be trouble.
A single mom, Tori Michaels can't afford to lose her job because of an impossibly arrogant ex-sailor. But hitching a ride with Blake puts her right in the middle of a conflict brewing between the law and a dangerous hate group. When suspicions are raised over which side Tori is on, Blake has to choose whether to trust in her innocence or lose her. But in choosing to protect her, he's making himself vulnerable to a desire he thought he'd never feel again—and an enemy he doesn't see coming.
Available through these on-line retailers:
Amazon:  https://amzn.to/2O9JgDB
Barnes & Noble: https://bit.ly/2Q0275A
iTunes: https://apple.co/2yBAfOS
Kobo: https://bit.ly/2yBwLvG
Google Play: https://buff.ly/2D1PmVF
Honor Among SEALs (Hearts of Valor #2)
Navy SEALS are trained to take on all enemies in extreme situations—but there's nothing more dangerous than matters of the heart . . .
 
This is Matt Iverson's story.
Working for a security company with his brothers-in-arms has given former SEAL Matt "MacGyver" Iverson a reason to get up every morning. But keeping a runaway bride from harm isn't in his job description . . .
Former Marine Kellie Greyson is in over her head. A cold-hearted ultimatum leaves her no choice but to wed mob boss Tony Palazzi. But when she overhears his deadly plans for her after she says 'I do,' Kellie flees his casino, only to wind up in a seedy Vegas bar. The next thing she knows, she's waking up beside a protective powerhouse of a man . . .
Though Kellie's body kickstarts his into high gear, MacGyver is all business trying to convince her that they need each other. Both are looking for missing people—and all roads lead to Palazzi. MacGyver will have to lay all his cards on the table to get Kellie to trust him in a game they might not survive . . .
Amazon:  https://amzn.to/2oSM5OP
Barnes & Noble: https://bit.ly/2I5tEiF
iTunes: https://apple.co/2I7N1Ya
Kobo: https://bit.ly/2H83Jp5
Google Play: https://bit.ly/2Em5AVB
Heart of a SEAL (Hearts of Valor #1)
They're brothers-in-arms, Navy SEALs, risking their lives for their country . . . and the women they love.
This is Luke Harding's story.
Six months in a desert hellhole taught Navy SEAL Luke Harding things he never wanted to learn about life and death. Only tender memories of the beautiful brunette he met a few weeks before deployment helped get him through the torturous days and nights. Back in the states after a perilous rescue, physically and emotionally damaged, Luke is about to plunge into a new kind of war. In a seemingly bucolic Idaho town, Sally Duncan faces real  and unpredictable danger.
All Sally ever wanted was a safe place to raise her nine-year-old daughter. Her identity hidden behind a façade of secrets and lies, can she trust Luke – a man she barely knows – with the truth? Even as they give in to long-denied passion, a killer with a personal vendetta is setting an ambush that will leave them praying for a miracle and fighting for the future they may not live to see.
Download a copy today: Amazon; Barnes & Noble
Amazon – https://amzn.to/2n6Wzt1
Barnes & Noble – https://bit.ly/2EpY38y
iTunes – https://apple.co/2GblJ2l
Google Play – https://bit.ly/2n5CpPT
Kobo – https://bit.ly/2DCARY2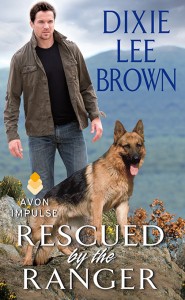 Rescued by the Ranger
(Prequel to Hearts of Valor)

Protecting those in trouble is what Army Ranger Garrett Harding does best. But after helping a feisty redhead toss a couple of losers from her Idaho bar, the woman is anything but grateful—in fact, she seems to despise him.
The only thing Rachel Maguire wants is to send this former military man packing. She knows Garrett has his own reasons for staying, so when he offers Rachel a deal – two days to prove his worth or he leaves – she reluctantly agrees. Despite wanting to loathe him, Rachel finds herself drawn to his quiet confidence…and the way he fills out a T-shirt.
When Rachel receives a phone call from the past, everything changes. Garrett won't leave her to face the danger alone. He'll protect her even if it means risking his life – and his heart.
Order a copy today: Amazon; Barnes & Noble
 Tempting Brady (Trust No One #5)
 A fast-paced tale of a damaged hero and the sexy fugitive who steals his heart.
  Former SEAL Jim Brady never breaks a promise.
 When he tells a five-year-old kid he'll find his missing mother, Brady won't return without her. But when his search for one woman leads him to another, covered in blood, claiming cops killed her friend and now intend to silence her, his gut won't let him walk away.
 Samantha (Mac) McCallister is running scared.
 Witnessing her friend, an Alaska State Trooper, murdered by fellow cops and barely escaping with her life, she won't quit until she learns who's responsible, which lands her directly in Brady's path. Both seeking the same mystery woman, Mac can either trust the hot-as-sin ex-SEAL or take her chances alone with ruthless killers.
Mac's attraction to Brady burns hot, but a happy ending seems unlikely after she's labeled a cop-killer—accused of shooting her best friend. With the police and a foreign hit squad hunting them, Brady puts his life, his promise, and his heart on the line to protect her.
Can he save the sexy fugitive, clear her name, and keep his word to a young boy, or will everyone he cares for be destroyed?
TEMPTING BRADY is the fifth stand-alone novel in the Trust No One romantic suspense series. If you like non-stop action, hot chemistry, and danger around every corner, you'll love Dixie Lee Brown's thrilling story.
Download TEMPTING BRADY and be tempted to stay up late reading tonight!
Reader Note: This book was previously released in 2015 under the title "Tempt the Night."
Pre-Order your copy today: Amazon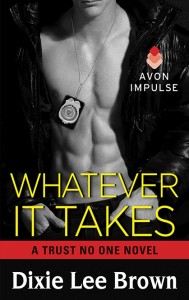 Whatever it Takes (Trust No One #4)
Fans of Cindy Gerard and Jaci Burton will love the next thrilling novel in Dixie Lee Brown's suspenseful Trust No One series.
Assassin Alex Morgan will do anything to save an innocent life – especially if it means rescuing a child from a hell like the one she endured. But going undercover as husband and wife, with none other than the disarmingly sexy Detective Nate Sanders, may be more togetherness than she can handle.
Nate has dodged more than a few bullets over the years, but fighting his attraction for Alex may be the bullet that does him in. Still, Nate's determined to help her find the missing kid. There's no doubt they're walking straight into danger, but he's willing to face anything to accomplish his mission: to stay by her side – forever.
Order a copy today: Amazon; Barnes & Noble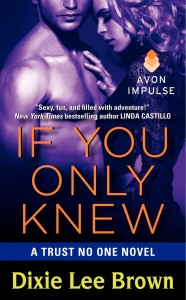 If You Only Knew (Trust No One #3)
The next sexy, suspenseful installment in Dixie Lee Brown's Trust No One series.
Beautiful but deadly, Rayna Dugan is a force to be reckoned with – even in heels. But when she's cornered and must defend her life against a criminal empire, Rayna knows she needs backup. Suddenly the choice she made to leave Ty and her old mercenary team in Montana seems like a bad call. She's been running from her feelings for the tough, rugged man, but Rayna needs Ty now more than ever.
Ex-cop Ty Whitlock has spent the past six years waiting for his past to catch up with him. When it does, he isn't expecting the woman he loves—the one who walked out on him—to be caught in its web. She's moved on, but he can't help but want one more chance to change her mind. Ty's has one choice: find Rayna and keep her safe. That's the easy part…but can he convince her to stay?
Order your copy today: Amazon; Barnes & Noble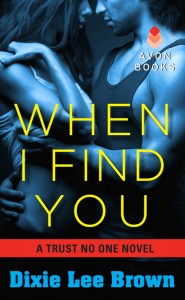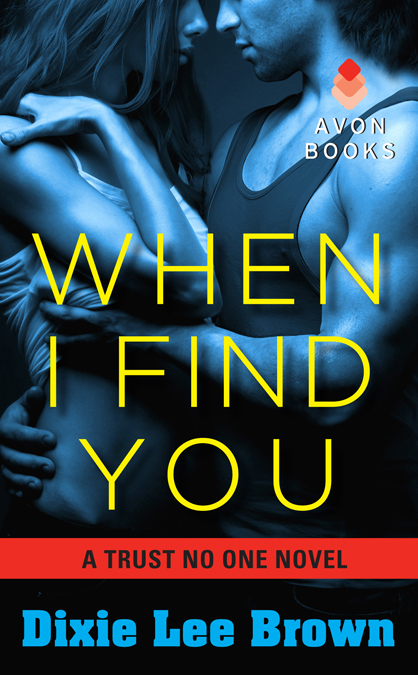 When I Find You (Trust No One #2)
Dixie Lee Brown continues her heart-racing Trust No One series with a sexy veteran determined to protect an innocent woman on the run.
As a former Marine, Walker can find a needle in a haystack, but when he's asked to track down a nanny fleeing from the mafia, he's sure she'll be nothing but trouble. Especially after the sexy redhead clubs him and leaves him for dead. Walker is stunned by her courage – and her curves – and can't help being drawn to this woman trying to survive. He'll find her, and when he does, it'll take more than the mafia to tear him away.
Darcy Maddox is on the run, and her future is looking more bleak every minute. She has a decision to make – go it alone…or trust a stranger. The choice seems simple until she realizes it's not just her life at stake – it's her heart.
Order a copy today: Amazon;  Barnes & Noble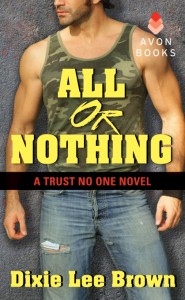 All or Nothing (Trust No One #1)
Dixie Lee Brown launches her Trust No One series with this tale of a hunted woman and the only man who can save her life…if she'll let him.
Someone wants Cara Sinclair dead. One minute she's  enjoying a getaway at the beach, and the next she's being chased by hit men. Rescued by a total stranger, Cara must decide whether she can trust Joe Reynolds and his team of mercenaries. The more time she spends with Joe, the more her desire for him grows. But can he truly protect her, or is she placing them all in mortal danger?
Joe agreed to protect Cara as a promise to a dying friend. He never expected to feel such heat between them, or her total lack of faith in him. Now he must convince her that  her only hope lies with him…because Joe is starting to realize he won't be satisfied with just saving her life. Now he wants it all.
Order your copy today: Amazon Books; Barnes & Noble