THURSDAY FEBRUARY 13th MARKS THE RELEASE OF
Braedric's Bane, Book IV in The Golden Key Chronicles!
Find out more about the final installment in this epic fantasy romance!
Advance praise for Braedric's Bane:
5 STARS from Comet Babes Books! Amazing 4th book. What more can you ask from a fantasy series–time travelling, costumes and even a fight. Add the sexy hero and it has everything you could want in a book!
5 STARS from Follow the Yellow Book Road! An epic fantasy, adventure and romance with a dash of comedy rolled into one fabulous book. I literally read it in one sitting.
To e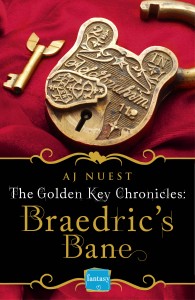 scape the clutches of the evil Wizard Gaelleod, Rowena and Caedmon flee to the future. With her memories intact and the help of her dear friends, Rowena is confident they can uncover the clues behind her connection to the key.
Yet Violet's dire prophecy does more than detail their history. Caedmon's worst fears are confirmed. Though they must return to his realm, everything he loves stands to be ripped from his grasp.
Join Caedmon and Rowena as they embark on an epic battle to protect the Austiere Kingdom and fight to safeguard their love in Braedric's Bane, Book IV of The Golden Key Chronicles. 
Available February 13th on AMAZON and AMAZONUK!
Praise for The Golden Key Chronicles:
57 FIVE STAR REVIEWS on Goodreads
42 FIVE STAR REVIEWS on Amazon US/UK
Like the best fairy tales, Rowena's Key captures the imagination and the heart with a bonus undercurrent of spicy romance. 5 Stars on Amazon
AJ, why do you have to write the most wonderful heroes? Aaaahhhh!!! Now I'm hooked and begrudgingly wait for Book 2. I can't believe this is
happening! 5 Stars on Amazon
Crazy good! A total fan of the first book, the second did not disappoint at all. I swear I could smell leather while reading this book I was sooooo into it. 5 Stars on Amazon
I liked Rowena in Rowena's Key. Candra's Freedom just made me fall in love with her! Fierce and headstrong, she is everything a heroine should be. 5 Stars on Goodreads
I absolutely adored the first two in this series, with Rowena's Key being one of my favorite romance reads of 2013, so I had high hopes (read: desperate cravings) for Caedmon's Curse – it did not disappoint! 5 Stars on Goodreads
Honestly, if there were more than 5 stars, I would give them to Caedmon's Curse and the whole Golden Key Chronicles. So well written, the story flows seamlessly from one danger to the next. The romance between Caedmon and Rowena is sexy, honest, and fresh. 5 Stars on Goodreads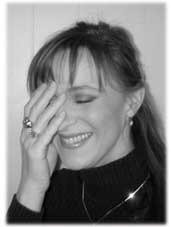 AJ is a multi-published, award-winning author who lives in the middle of a cornfield in NW Indiana. Her loving husband, two beautiful children and a bevy of spoiled pets have agreed to stay and, in exchange for three rations per day and laundry service, tolerate her lunacy. While she spend most days happily ensconced in crafting romance across a multitude of genres, an underground coup has been percolating. The dogs just informed her the cat is secretly vying for dictatorship.
WEBSITE / BLOG / FACEBOOK / TWITTER / PINTEREST