It's Live!!
SEAL OF FATE
5th & final stand-alone novel in the
HEARTS OF VALOR series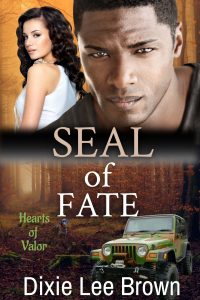 Jordan Hayes is starting to live again after a personal tragedy flips her world upside down. But the dating game is far more dangerous than she remembers.
A carefree drive in the beautiful Ochoco Mountains becomes a nightmare when a disagreement with her date results in Jordan losing her way in the dark wilderness. Hours later, rescue arrives in the form of three men willing to help, but can she trust her saviors, or has her difficult situation just turned deadly?
Former SEAL Travis Monroe and his elite security team accept a mission to take down a ruthless domestic terrorist group before they strike again. Easy enough, until the radicals Travis infiltrates stumble upon a gorgeous woman in the middle of nowhere. The same woman he was instantly attracted to in a bar the previous weekend…right up until she showed him the door.
Despite the chemistry that sizzles between them, Jordan doesn't trust him, but refusing his help is not an option. Can Travis maintain his cover and still keep her alive?
SEAL OF FATE, the fifth in the Hearts of Valor series, is a stand-alone romantic suspense novel with recurring characters introduced in the first four books.
Start reading today:  https://books2read.com/sealfate