Thank goodness the weekend is finally here! And a long one at that! Ever have one of those days at work? I outdid myself on TGIF Friday! So much so that I'm still celebrating the end of the work week.
I've always wondered about those signs you see posted everywhere. The ones in restaurant bathrooms telling the staff to wash their hands before returning to work. Or the notices on plastic bags telling parents it's not a toy for their child's entertainment. I've been dying to know who needs to be told these things.
After Friday,I'm much more humble about the whole thing! They are busy people, preoccupied people, forgetful people and, yes, stupid people. In short…they are…me!
My adventure began with one of those little cup-of-soups you add water to and nuke. Turns out if you forget to add the water it takes no time at all for the cup and its contents to dissolve into a pile of ash and fill your office with toxic fumes – prompting one young and enthusiastic temp, working her last day before our new mama returns from maternity leave, to quip, "WOW! BEST LAST DAY EVER!!"
Well, I figure it's not every day I make someone's best last day, so I'll just leave it at that. But I feel the need to celebrate that the week is over so why not give away some books? Four lucky people will each win a signed paperback copy of WHEN I FIND YOU. Enter as many times as you'd like and please feel free to spread the word.
I love comments, and I hope some of you will be brave enough to share an embarrassing moment with me so I'll know I'm not alone.
Good luck!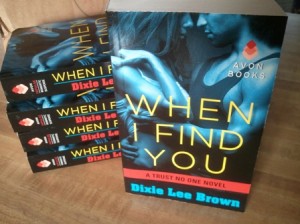 Amazon.com