My friend and awesome author, Joanne Stewart, nominated me for this award. Thanks, Joanne! It remains to be seen if I can come up with 7 facts about myself that won't put folks to sleep!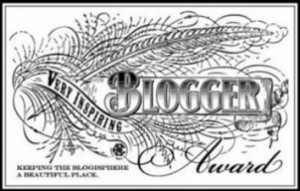 Here are the rules:
Display the award logo on your blog.
Link back to the person who nominated you.
State 7 things about yourself.
Nominate other bloggers (the number seems to vary) and link back to them.
That's it – piece of cake!
Okay, here goes. Seven things you may or may not know about me:
1. I was born in the Black Hills of South Dakota just a few miles down the road from Deadwood. From the time I started school until the middle of 7th grade, I never stayed a whole year in any one school, sometimes changing two or three times a year. I still have trouble making friends and am a total introvert, more comfortable in a book than with other people.
2. I love dogs. I currently have two. One is a purebred Maltese named Kaycee. She's my little spitfire. Reba is a Maltese/Shih tzu cross. I swear she has springs on her feet. She can stand beside my desk and jump straight up on top of it. She can also do that at the table which isn't nearly as cute!
3. I love country music. In fact, I'm a country music snob! As unlikely as it sounds, it relaxes me like no other music can. My alarm is tuned to a country station, as is my car radio. Best live performance I ever saw – Reba McEntire at the Oregon Jamboree.
4. My favorite non-romance writer is Lisa Gardner. I've read all of her books except her newest release. She's a fantastic writer.
5. My favorite place is the beach. There's nothing like the smell of sea air, the sand constantly moving, and the awesome power of the ocean to put everything in its proper perspective. I usually have some part of my books set on the beach as well.
6. I'm a 4-H volunteer – have been since my daughters started in cooking and sewing clubs more years ago than I care to admit. They also joined clubs for dogs, rabbits, horses and pigs. They've long since grown up and gone on to other endeavors, but I still help out when I can. I met some of my best friends through this organization.
7. If I had sufficient time and money, I would travel. I'm struck by how huge and completely diverse this world of ours is. I think we were meant to see it all, and I am sadly behind schedule! First stop, should I ever get the chance – New Zealand!
My turn to nominate: