and her new book, Mystic Hearts!
Mystic Hearts, The Band of Friends series, Book 2
Editor's Pick!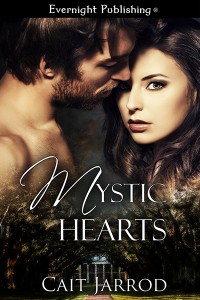 Buy on ebook:
Coming soon to print.
Nothing is as it seems….
Temptation landed at Special Agent Larry Newman's feet—literally. Charlene Smith captured his heart after he rescued her from terrorists two months ago. A failed relationship and being an abused child have turned him into a loner and workaholic. The scars weigh heavy on him and keep him from pursuing her. So what's a guy to do when the woman he pines for passes out in front of him while working a case?
Battling psychological wounds from abduction is easier than coming face to face with the sexy FBI agent she's fantasized about for months. A single mother, avoiding the drama that dating would bring to her son's life, she allows Larry close only in her dreams. Now, she's second-guessing her decision. Should she have a relationship with this man who makes her feel alive just by being close?
Catch up with Cait:
Webpage: caitjarrod.com
Facebook Page: https://www.facebook.com/pages/Cait-Jarrod-Author/500705936640529?ref=hl
Facebook Profile: https://www.facebook.com/cait.jarrod
Twitter: http://twitter.com/CaitJarrod
Goodreads: http://www.goodreads.com/author/show/6966274.Cait_Jarrod
Google+: https://plus.google.com/u/0/+CaitJarrod/posts/p/pub
Email: cait.jarrod@aol.com
Pinterest: http://www.pinterest.com/caitjarrod/
~Sign up for her quarterly newsletters or when a new release comes out at http://caitjarrod.com/contact-cait-andor-signup-for-news-from-cait-newsletter/.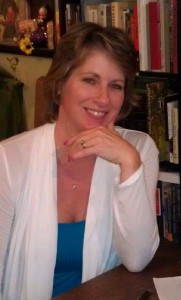 Cait's bio:
From writing 'every girl's dream heroes' to 'strong, down-to-earth heroines,' Cait Jarrod twists 'cliff hanging plots' and 'clever, unpredictable sub-plots'. She loves diving into a good book as much as she loves writing one.
Mother of three gorgeous daughters, she's married to her best friend, hangs out with the WWC, a great group of women, and loves a good glass of wine.