Check out these romantic suspense novels!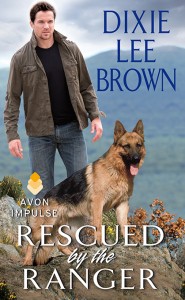 Rescued by the Ranger

Protecting those in trouble is what Army Ranger Garrett Harding does best. But after helping a feisty redhead toss a couple of losers from her Idaho bar, the woman is anything but grateful—in fact, she seems to despise him.
The only thing Rachel Maguire wants is to send this former military man packing. She knows Garrett has his own reasons for staying, so when he offers Rachel a deal – two days to prove his worth or he leaves – she reluctantly agrees. Despite wanting to loathe him, Rachel finds herself drawn to his quiet confidence…and the way he fills out a T-shirt.
When Rachel receives a phone call from the past, everything changes. Garrett won't leave her to face the danger alone. He'll protect her even if it means risking his life – and his heart.
Order a copy today: Amazon; Barnes & Noble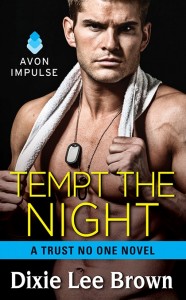 Tempt the Night
Dixie Lee Brown concludes her thrilling Trust No One series with a fast-paced tale of a damaged hero and the sexy fugitive he can't help falling for.
Mac McCallister barely believes her own tale of dirty cops and murder that landed her in the hands of sexy Jim Brady. One minute she's enjoying a ride-along in her best friend's cruiser, the next he's dead and she's wanted for his murder. Mac didn't expect help from a stranger but with Jim by her side, can she can survive long enough to clear her name?
Former Navy Seal Jim Brady works best under pressure. At one time anyway. Now, fighting flashbacks from his time in Iraq, he's given up everything to protect the innocent from himself. Helping a woman woman wanted for murder isn't in his plans, but something tells him she's not the source of danger…she's running from it. He'll protect her…but who'll protect his heart?
Order your copy today: Amazon; Barnes & Noble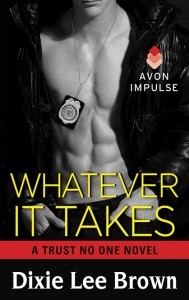 Whatever It Takes
Fans of Cindy Gerard and Jaci Burton will love the next thrilling novel in Dixie Lee Brown's suspenseful Trust No One series.
Assassin Alex Morgan will do anything to save an innocent life – especially if it means rescuing a child from a hell like the one she endured. But going undercover as husband and wife, with none other than the disarmingly sexy Detective Nate Sanders, may be more togetherness than she can handle.
Nate has dodged more than a few bullets over the years, but fighting his attraction for Alex may be the bullet that does him in. Still, Nate's determined to help her find the missing kid. There's no doubt they're walking straight into danger, but he's willing to face anything to accomplish his mission: to stay by her side – forever.
Order a copy today: Amazon; Barnes & Noble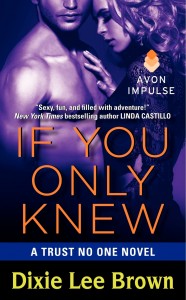 If You Only Knew
The next sexy, suspenseful installment in Dixie Lee Brown's Trust No One series.
Beautiful but deadly, Rayna Dugan is a force to be reckoned with – even in heels. But when she's cornered and must defend her life against a criminal empire, Rayna knows she needs backup. Suddenly the choice she made to leave Ty and her old mercenary team in Montana seems like a bad call. She's been running from her feelings for the tough, rugged man, but Rayna needs Ty now more than ever.
Ex-cop Ty Whitlock has spent the past six years waiting for his past to catch up with him. When it does, he isn't expecting the woman he loves—the one who walked out on him—to be caught in its web. She's moved on, but he can't help but want one more chance to change her mind. Ty's has one choice: find Rayna and keep her safe. That's the easy part…but can he convince her to stay?
Order your copy today: Amazon; Barnes & Noble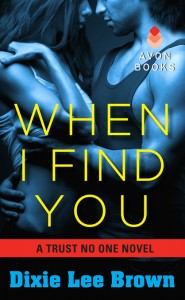 When I Find You
Dixie Lee Brown continues her heart-racing Trust No One series with a sexy veteran determined to protect an innocent woman on the run.
As a former Marine, Walker can find a needle in a haystack, but when he's asked to track down a nanny fleeing from the mafia, he's sure she'll be nothing but trouble. Especially after the sexy redhead clubs him and leaves him for dead. Walker is stunned by her courage – and her curves – and can't help being drawn to this woman trying to survive. He'll find her, and when he does, it'll take more than the mafia to tear him away.
Darcy Maddox is on the run, and her future is looking more bleak every minute. She has a decision to make – go it alone…or trust a stranger. The choice seems simple until she realizes it's not just her life at stake – it's her heart.
Order a copy today: Amazon;  Barnes & Noble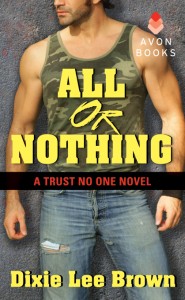 All or Nothing
Dixie Lee Brown launches her Trust No One series with this tale of a hunted woman and the only man who can save her life…if she'll let him.
Someone wants Cara Sinclair dead. One minute she's  enjoying a getaway at the beach, and the next she's being chased by hit men. Rescued by a total stranger, Cara must decide whether she can trust Joe Reynolds and his team of mercenaries. The more time she spends with Joe, the more her desire for him grows. But can he truly protect her, or is she placing them all in mortal danger?
Joe agreed to protect Cara as a promise to a dying friend. He never expected to feel such heat between them, or her total lack of faith in him. Now he must convince her that  her only hope lies with him…because Joe is starting to realize he won't be satisfied with just saving her life. Now he wants it all.
Order your copy today: Amazon Books; Barnes & Noble