Book Tour ~ For the Love of a SEAL
It's here! The 3rd book in the Hearts of Valor series has been released! I'm so thrilled and excited for you to read it and let me know what you think.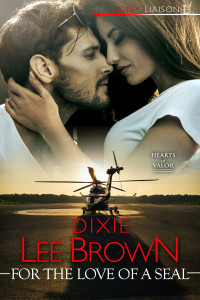 In the meantime, Kensington Books and Lyrical Press are sponsoring a book tour through Silver Dagger Book Tours, along with a Rafflecopter giveaway of a $20 Amazon gift card. If you're able, please follow the tour and feel free to enter the giveaway at each stop. Thanks for your interest and your support. I appreciate you!
The tour schedule follows:
Apr 9
kickoff at Silver Dagger Book Tours
Apr 10
Apr 11
Apr 12
Apr  13
3 Partners in Shopping, Nana, Mommy, &, Sissy, Too!
Apr 14
Apr 15
Apr 16
Apr 17
Apr 18
Always Love Me Some Books Blog
Apr 19
Apr 20
Books all things paranormal and romance
Apr 21
Apr 22
Apr 23
Apr 24
Apr 25
Apr 26
Apr 27
JB's Bookworms with Brandy Mulder
Apr 28
Momma Says: To Read or Not to Read
Apr 29
Viviana MacKade
Apr 30
Paranormal Palace of Pleasures
May 1
May 2
Stormy Nights Reviewing & Bloggin'
May 3
May 4
Valerie Ullmer | Romance Author
May 5
May 6
May 7
May 8
May 9