I'm thrilled to have Rachel Brimble, amazing and multi-talented author, on my blog site today, answering interview questions as well as introducing her newest book, WHAT A WOMAN DESIRES. Take it away, Rachel!
1) What genre(s) do you write in? Why?
I write Victorian romance for eKensington and contemporary romance and romantic suspense for Harlequin Superromance. I write in these sub-genres because it's what I love to read. The Victorian era fascinates me because it was a time of such change for women and industry, the potential for stories is huge.
As for the Harlequin books – they are all set in the fictional UK seaside town of Templeton Cove. I have just finished writing book 4 in the series and can't wait to get started on book 5. I could run and run with these characters. I love them!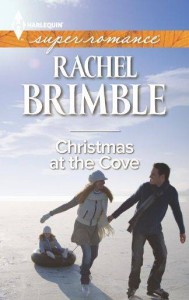 2) What/Who inspired you to start writing?
I've wanted to be a published author since I was seven or eight and discovered Enid Blyton's Secret Seven books. I used to write six or seven page stories and then bind them with ribbon. I really wish I still had them, lol! After that, authors like Judy Blume and the Sweet Dreams books (remember them??) inspired me.
It wasn't until the birth of my youngest daughter in 2001, that the bug really hit and I had a 'now or never' moment. I started writing short stories. My first novel (romantic suspense) was published in 2007.
3) Who would play your characters in a movie?
I am a very visual writer and need pictures to wake up the muse – I start every book browsing the Internet for pics of my hero and heroine. For WHAT A WOMAN DESIRES, Thomas Ashby (my hero) would be played by the delicious Tom Hardy (as he was in the movie Lawless) and Monica would be played by Emily Blunt.
4) Any suggestions for would be writers?
Keep writing and study your craft – Nothing teaches you to write like actually doing the work. Read, read and read some more. Study the books you love from a writer's perspective and see if you can pinpoint the highs and lows of the story, what you love or hate about certain scenes and why. This will give you the tools to construct a good, page-turning plot.
Also, I enrolled in as many affordable online courses as possible – there are some great courses on plot, POV, characterization and dialogue available for a few dollars via the Romance Writers of America chapters. I learned so much and made a great many friends along the way.
5) What makes a good story to you?
The characters – if you have characters readers understand and care about, you are more than halfway there. They don't have to necessarily 'like' the characters but readers need to understand them. Many reviewers comment on my villains – they are horrible! Yet, they say they couldn't get them out of their minds whenever they stopped reading. I hope this is because they leap from the page, they're real and even though readers want to see them get their fall at the end, they understood their motivation throughout the story.
6) Do you believe writers are born or made or both?
Both – to be a writer, you have to be passionate about words. You have to read, and you have to have a burning ambition to succeed. Writing is a craft, it can be learned but the tenacity you need to succeed can only come from within the writers themselves.
7) Besides getting published, what was your awe moment?
When I signed with both Kensington and Harlequin Superromance in the same year – these publishers were both on my 'dream' list. 2012 was an awesome year!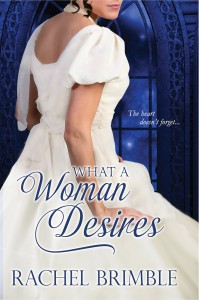 WHAT A WOMAN DESIRES is available now! Here are the blurb & buy links…
From country girl to actress of the stage, one woman dares to live her dreams—but is she brave enough to open her heart…?
Monica Danes always wanted more than the village of Biddestone had to offer. After a failed courtship to a man of her parents' choosing, she fled for the city of Bath and never looked back. Today, Monica is the undisputed queen of the theater—a wealthy, independent woman. But when she is called home in the wake of tragedy, Monica returns—intending to leave again as soon as possible.
Thomas Ashby has been a groom at the Danes estate since he was a boy—and has been enamored with Monica for almost as long. He knows he isn't a suitable match for his master's daughter, despite the special bond he and Monica have always shared—and their undeniable attraction. But now that she's returned, Thomas has one last chance to prove himself worthy—and to show Monica a life, and a love, she won't want to give up…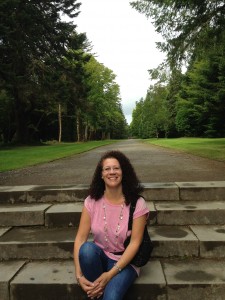 BIO:
Rachel lives with her husband and two teenage daughters in a small town near Bath in the UK. After having several novels published by small US presses, she secured agent representation in 2011. In 2012, she sold two books to Harlequin Superromance and a further three in 2013. She also writes Victorian romance for Kensington–her debut was released in April 2013, followed by a second in January 2014 and the third is released Jan 2015.
Rachel is a member of the Romantic Novelists Association and Romance Writers of America, and was selected to mentor the Superromance finalist of So You Think You Can Write 2014 contest. When she isn't writing, you'll find Rachel with her head in a book or walking the beautiful English countryside with her family and beloved black Lab, Max. Her dream place to live is Bourton-on-the-Water in South West England.
She likes nothing more than connecting and chatting with her readers and fellow romance writers. Rachel would love to hear from you!
Links:
Facebook Street Team – Rachel's Readers
I hope you'll leave Rachel a comment!