I never dreamed anything could replace the feel and smell of a well-worn, dog-eared paperback book. They're small, flexible, and just the right size to fit in a purse or coat pocket for that trip to the beach or the doctor's office. Handy at a moment's notice to help pass the time, they're also excellent conversation starters at the corner coffee shop or on the bus—providing your bus companions don't give you the heebie-jeebies.
Hardbacks are the king of books. There's just something about a hardback book. They're rich, formal, and BIG! To me they seem less inviting. They take up more space on the bookshelf and, psychologically, they make me feel like I have to keep them forever. Small house—lots of books—do the math!
Two years ago, I received a Kindle as a gift. When I opened the box, my first thought was here's something I'll never use.
I couldn't have been more wrong.
I read with my Kindle almost exclusively now. It's one of my favorite possessions—on the list of things to save in case of fire! I take it everywhere, along with my current library of approximately fifty unread e-books. You can't do that with paperbacks or hardbacks! No one at the doctor's office has to know whether I'm reading a hot romance or, worse yet, quantum physics theories. I can shop for books in the privacy of my home and be instantly gratified when I make a purchase and complete the download. What's not to like?
This week, however, I'll have to say the paperback gets my vote. You see, Tuesday, April 9th, my romantic suspense novel, ALL OR NOTHING, will be released in mass market paperback. I've about worn out my advance copy, running my hands over the cover and the spine, tracing the letters of the title and my name, and flipping the pages to smell the ink. What can I say? It's my first book and I'm reveling!
To celebrate, I'm giving away a free copy of my book. For a chance to win, leave me a comment and tell me which format you prefer and why. Giveaway ends at 5 pm PDT, Saturday, April 13th.
Thanks for helping me celebrate!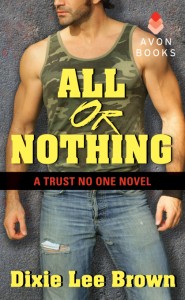 ALL OR NOTHING
Someone wants Cara Sinclair dead. One minute she's half-heartedly enjoying an Oregon coast casino, and the next she's being chased by hit men. Rescued by a total stranger, Cara must decide whether she can trust her safety to this…Joe Reynolds and his team of ruthless mercenaries. The more time she spends with Joe, the more her desire for him grows. But can he truly protect her, or is she placing them all in mortal danger?
Joe agreed to protect Cara as a promise to a dying man. He never expected to feel such heat between them, or her total lack of faith in him. Now he must convince her that her only hope lies with him. Joe is starting to realize that he won't be satisfied with just saving her life…now, he wants it all.
Excerpt:
"Do I have spinach in my teeth or something?" Cara glared at Joe coldly.
"Could you lose the dark glasses, please?"
"Why?"
"Because I can't tell if you're okay."
"You could just ask me. Besides, what do you care?"
Joe sighed and leaned back. If she didn't know he cared about her yet, there was no sense in telling her now—days, or maybe hours, before she disappeared from his life.
She mimicked his sigh but, to his surprise, she removed her sunglasses. As he'd expected, her eyes were red-rimmed and swollen.
He turned in his seat and leaned toward her. "Are you having second thoughts about going after your brother? Because if you are, we'll figure something…"
"No, that's not it. I need to do this."
"Then what?" Something in the way her eyes slid away from his gave him the answer he needed. "Damn it, Cara. If you don't want to go, stay. Surely it hasn't escaped your notice I want you to stay."
For a moment, he thought she'd give in and admit what he was certain she wanted. He felt her determination waver as she watched him.
So close, and yet it slipped away as her expression hardened and her gaze dropped to her hands. "I want to go."
A spark of hope grew within him, fanned by the winds of her conflicting emotions. He could tell it was a lie by the way her hands clasped and unclasped nervously. The truth was in her eyes, but it didn't matter that she wasn't telling the truth. The result would be the same. She was leaving the country, leaving him, even though she didn't want to. The only plausible explanation he could come up with was she still didn't trust him to keep her safe from Dennelli. Joe was really getting tired of that guy's grip on their lives. As soon as he finished with Sinclair, he'd see what he could do about the bastard.
Cara glanced at him and, in the moment before she put her dark glasses back on, sorrow and regret reflected in her eyes. He could make it easier on her by letting her go. He could say all the right things, do all the right things, and watch her walk out of his life.
The hell he would! Not this time.
ALL OR NOTHING can be purchased at the following locations:
Amazon – http://www.amazon.com/All-Nothing-Trust-One-Novel/dp/0062273876/ref=sr_1_1?ie=UTF8&qid=1365222306&sr=8-1&keywords=dixie+lee+brown
Barnes & Noble – http://www.barnesandnoble.com/w/all-or-nothing-dixie-lee-brown/1113938795?ean=9780062273871